found wings
I found a great pair of Honda "Wings" I want to get for the headlight.  I am just waiting a little bit, I still need to do motor work on the bike, either mess with the valves, adjust them, and or, I might upgrade to a 138 kit, I know a guy, Lance, who will install the kit and the domed piston, full kit, just kinda expensive…  What's not now-a-days.  The wings I found are on eBay in Thailand and they are kinda expensive again… – Honda Wings  I think I still need to get them, I want to make this bike unique.  I also FB'ed a friend Jillyin, and told her I want her dad to start having 3 wheeler races at his track, you know you will see me there if it becomes reality, hopefully.
Seat Pan ordered
As you can see, I am in need of a new seat pan.  I have been looking the whole time I have had the bike ebay, Google.  I found a post to make my own seat pan out of fiberglass, probably cost $50 for materials, then time, and the tools to do it cost more.  I found one seat pan on ebay, but it sold for $120, more then I paid for the bike.  So I have been searching a lot.  I found one in Australia, fiberglass, but with shipping it would cost about $85.  I would like to keep it OEM if I can even though the colors are not.  I finally found one on ebay, I'll show you soon what I am going to do to the cover.
Mags
After much time and research – ebay, three wheeler club(s), forums, and Google searches.  I found some sources that have been good to me.
I found a guy, Lance, that has a boat load of old vintage parts, pieces, and motors, you name it he has got it.  He sold me the Mags, I didn't really need them, but for the uniqueness of the bike, I did.  A pretty penny later, tubes, and the money to have him switch the tires over for me, it is coming together.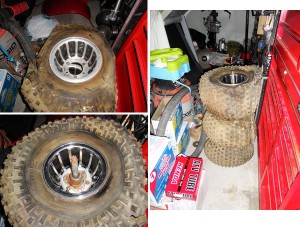 Project 110 Begins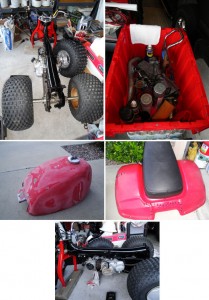 Disassemble and discover what there is to replace and work with. Needs TLC paint job, thinking of going matte black…
Registration – OUCH!  just as much as I paid for the bike.
Needs:
Chain, exhaust, carb rebuild, rubber tank mount, pull start handle, tank strap, 6 pack rack, tail light lens, new decals, ape hanger handle bars, mags, tubes, gas line, fix rusting tank and the list goes on…